A category listing in a two column grid. Each cell contains a large photo of the post with its title and an excerpt below. At the bottom are two similar posts with a smaller photo and title.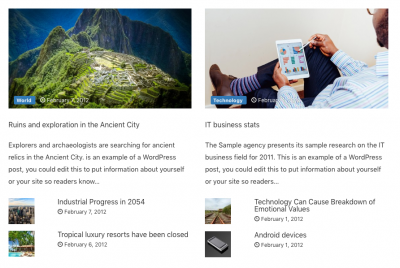 Required plugins
Toolset Views
Toolset Module Manager (only to install the module)
How to install the module
Go to Toolset -> Modules, switch to the Modules library tab.
Locate the Categories grid module and click Install, next click Import selected items.
How to use the module
After importing the module:
Go to a page on which you want the slider to appear.
Click Fields and Views and locate the Categories grid View and insert it.
Save your page.
You should see your posted grouped by categories, in a two column grid.
The View uses Bootstrap columns. Your output should match the layout shown on the image above. If your columns are not displayed correctly, go to Toolset->Settings->General and select the Toolset should load Bootstrap 4.0 option.