How to add testimonials to your website with Toolset
You can use Toolset Testimonials to quickly add great-looking testimonials to your website. We'll go through the steps below that you can follow to have your own customized testimonials in no time at all.
Don't forget that you can see for yourself exactly how the testimonials look and work on our Toolset modules demo.
01Step Download the plugins you need to build Toolset testimonials
Before you start creating your testimonials with Toolset, you will need to download the following plugins:
Depending on what you want to achieve with your testimonials, you might need to download:
To install your Toolset plugins follow our guide on how to install and register Toolset.
The quickest way to create a testimonial
Before we start, don't forget that the fastest way to get testimonials on your website is by using the Toolset Module Manager.
The Toolset Module Manager provides you with out-of-the-box designs for testimonials which you can add to any website. For example, below you can see the three cell slider.

If you prefer to create your testimonials yourself then read on.
02Step Create the testimonials custom post type
Now that we have downloaded the plugins we need to create the post type where we can add all of the information for each testimonial.
Here is how you create the Testimonials post type:
To start, head to the Toolset Dashboard in the WordPress admin and click Add new post type.
Enter the following in each box:
Click Save Post Type and your Testimonials post type is ready.
03Step Create custom fields for your testimonials
Now that we have created our Testimonials custom post type we can now add the custom fields which will help us display all of the information we need for each one.
On a page displaying a testimonial, you will generally see the same type of information. There will be an image of the testimonial, the name, the testimonial itself and other data. Just like on our example on the back-end: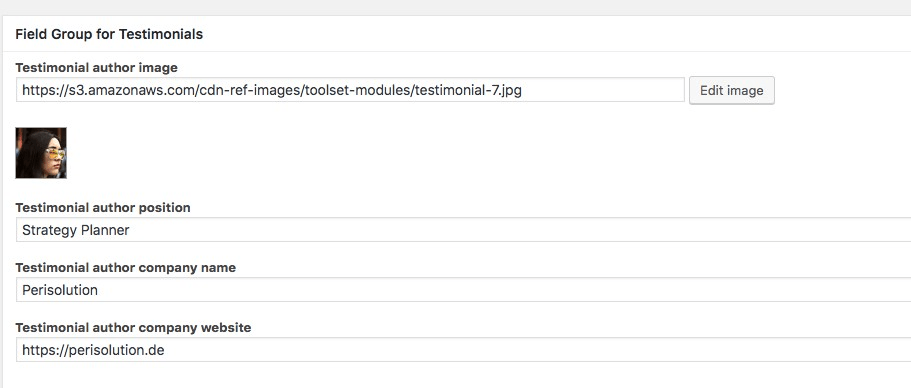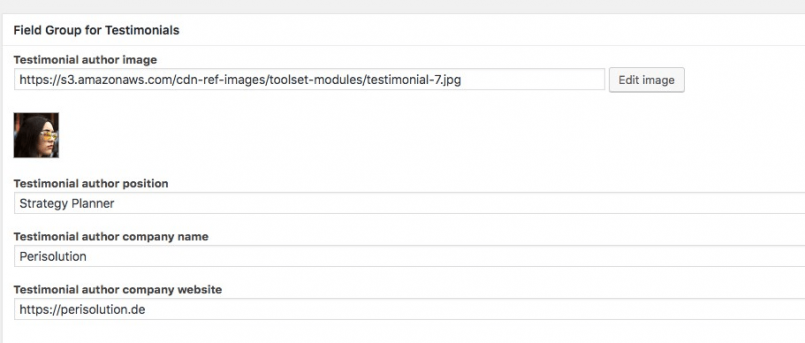 Each piece of information is displayed using a custom field.
Let's create a custom field for the Testimonial author position of the person giving the testimonial as an example.
On the Toolset Dashboard click on Create field group next to the Testimonials post type.
Click on the button Create field group and then Add New Field to add fields to the group.
Now we choose the type of field we want. For our Testimonial author position custom field, we'll use the Single line option.
Set the options for the field. We can include the name of the field, the number of values and whether it's a required field among other variables.
Click Save Field Group and it will now appear when you edit your Testimonials posts.
04Step Create a View to display the testimonials
To load and display our content from the database we need to create a View for our testimonials. We can then style our View exactly how we want for when it appears on the front-end.
On our Toolset demo site, we have multiple examples of how you can display your testimonials using Views.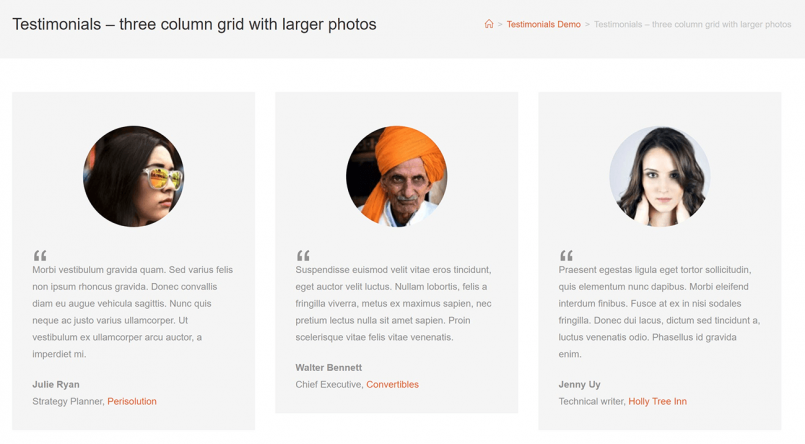 You can create a slider, grid, list or any other type of View to display your testimonials.
To create your View, check out our guide on how to display your custom list of content.
Once your View for your testimonials is ready you can display it on the front-end.
05Step Create single post pages for individual testimonials
You might, of course, prefer to display your testimonials individually on separate post pages. That is how we display our testimonials on toolset.com. Below you can see an example of a testimonial from Lucy Davies.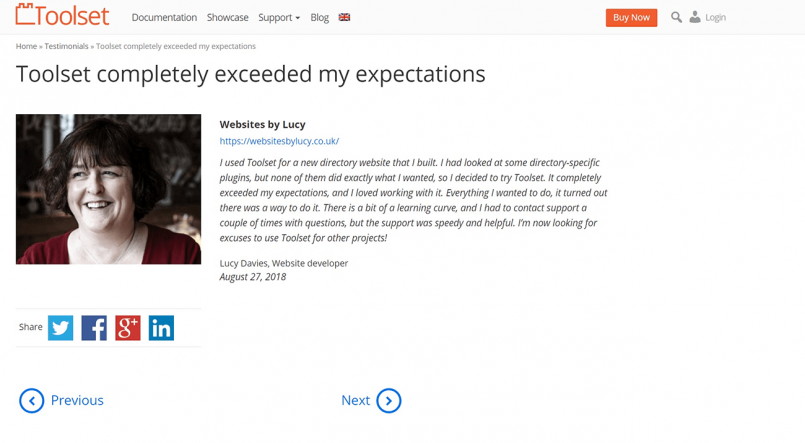 To design these posts you will need to create a template which you can add to each of your single testimonials. Take a look at our guide to creating templates for displaying custom posts for more information.
06Step Build front-end forms for users to submit testimonials
Instead of having to insert the content for each testimonial yourself you can simply create a front-end form. All your users will need to do is fill out your form and their testimonial can be instantly published in the same design as the others.
You can see an example of a front-end form for submitting testimonials on our Toolset Modules demo site.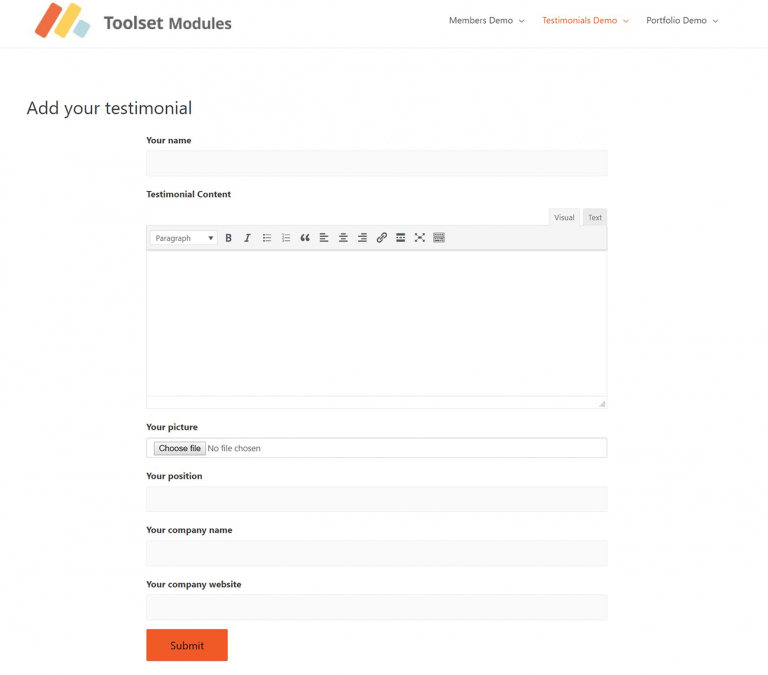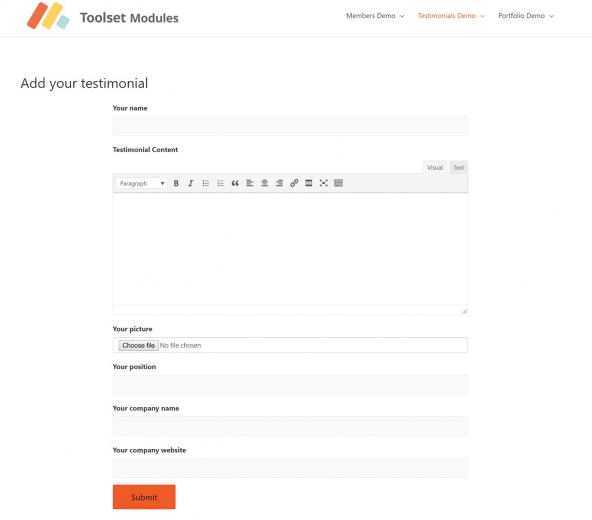 To create a front-end form for testimonial submissions, check out our documentation on building forms for creating content.
07Step Create a relationship between your testimonials and other post types
If your website has a number of different services or products, you can create a connection between it and relevant testimonials.
For example, if you are selling many different types of home refurbishment services you might have different testimonials about each one. Therefore, a user can leave a testimonial for a specific service, for example, plumbing. Then you can easily display relevant testimonials for each of your services.
Follow our post relationship documentation to see how to create relationships between post types.
We look forward to hearing your feedback
If you are not a Toolset customer yet, feel free to send your questions using the presales questions form.
We'll be happy to answer.
If you're already a Toolset client and you need help, use the technical support forum.