In this lesson, you will learn how to create completely custom templates for WooCommerce products from scratch using the WordPress Block Editor and Toolset.
WooCommerce comes with a standard template for displaying your products. The theme you choose can make some styling changes and turn some features on or off, but anything more than that usually requires custom coding.
With Toolset, you can create advanced features and have full control over your site's styling, with no coding necessary. You can recreate features you find on major retail sites, or dream up your own features and build them using custom post types and fields, post relationships, custom layouts, and more.
Here are some ideas of some things you can do using Toolset:
How to Design Product Templates
Go to Toolset → Dashboard and click the Create Content Template button in the Products row.
Use the WordPress Block Editor to design your template.
Insert the Toolset Heading and Single Fields blocks with dynamic sources to display your product title, content, custom fields and taxonomies.
Choose blocks from the Toolset WooCommerce section to display WooCommerce elements such as the Add to Cart Button, Product Price, Rating, and more. You will notice that all Toolset WooCommerce blocks allow you to select a custom or native output type.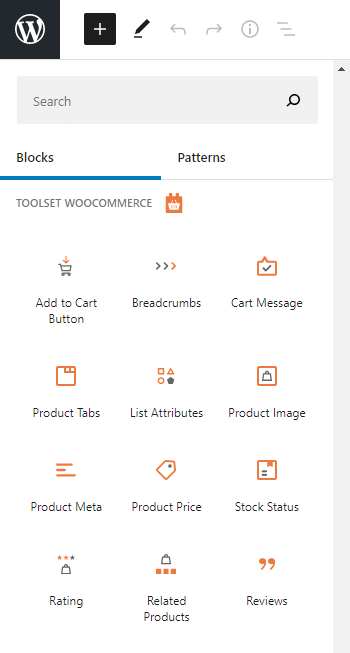 Be sure to check out our detailed lesson that explains how to display images with Toolset.
Send feedback to our documentation team