A custom search allows people to find exactly what they are looking for in WordPress sites. Toolset makes it easy to build searches for any type of content.
With Toolset, you choose what to search by, how to style the search box, and how to display the results.
You can also enable pagination, AJAX updates, and sorting to enhance the custom search and make it more usable for sites that have a lot of content.
Besides this you can display custom search results on a map, or set up the search box and results results side-by-side.
Custom searches built using Toolset
On this page
Steps for creating custom searches
There are two main steps for creating a custom search:
It doesn't matter which of these steps you do first. However, having at least simple search results makes it easier to test the search form.
Here is an example of a complete custom search, with both the box and the results.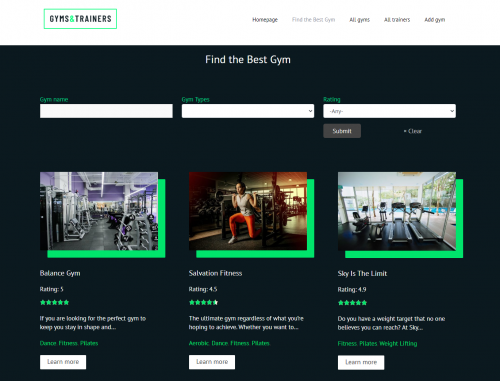 1. Creating the custom search form
You start by inserting a View block into your page.
In the View creation wizard, enable the Search option.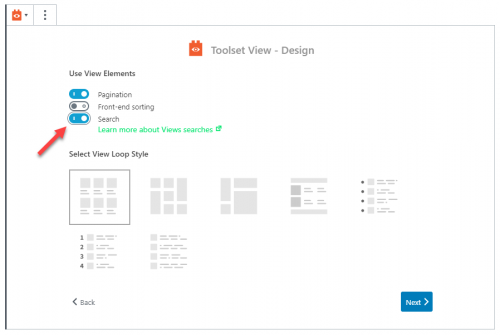 After finishing the View creation wizard there is a View Search section in the View's editing area. Use the available buttons to add a custom search field, insert submit and reset buttons, or add other blocks.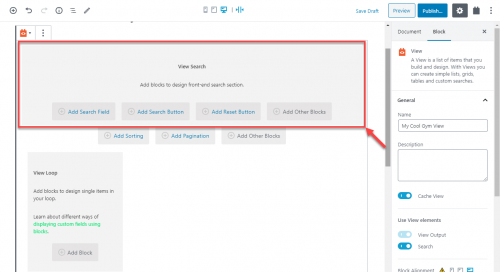 For example, you can click to Add Search Field and use the Select a Field dropdown. Select by which content type you want users to be able to search by and click Next.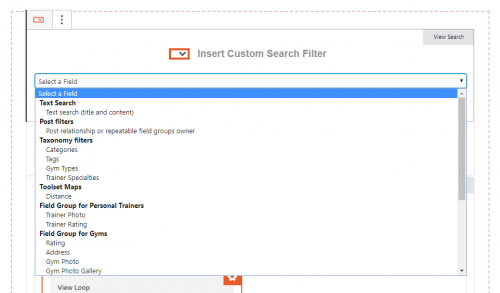 You can now use the right sidebar to tweak the options for this search field. This includes the main field settings, label and style options.

2. Creating the search results
The results of a custom search is basically a list of posts. In Toolset, we call such lists Views. Instead of writing custom queries, Toolset does everything for you. All you need to do is visually design what and how you want to display for each post.
You create a View using Toolset blocks as they allow you to display dynamic content coming from custom fields, taxonomies, and standard post fields. You can then use the styling options within each Toolset block to design how the list will look like.
You can even display Dynamic Sources using WordPress core blocks and popular block plugins. Insert them and in the right sidebar, expand the Dynamic Sources section. Toggle on the option for any of the supported fields in that block.
Toolset even allows you to display Dynamic Sources inside any text blocks like headings, buttons, and more. For more information, check out the lesson about displaying Inline Fields.
You can also enhance search results by adding pagination, front-end sorting, or making results update when search inputs change.
Send feedback to our documentation team