Toolset 2.2 Adds Beaver Builder Integration, Relevanssi Integration, New Layouts Cells, Permission-based Access Control, and more
This major release of Toolset plugins comes packed with new features, allowing you to further enhance and simplify the way you build powerful sites. Beaver Builder integration allows you to create templates for whole post types using the much-praised drag-and-drop interface. Views is now integrated with Relevanssi search plugin allowing you to search custom fields and sort results by relevance. There are three new cells in Layouts, for easy creation of tabs, accordions and widget areas. Access now controls custom user roles based on permissions instead of levels and features a revamped user interface. A new and improved interface is also found in CRED.
Design Templates with Beaver Builder
Views 2.2 brings integration with Beaver Builder, a much-awaited feature that makes Content Templates crafting easier than ever.
Once you click the corresponding button, the default editor is replaced with an overlay, offering to launch the front-end editor.
| Designing Templates With Beaver Builder | Results – One Template For A Whole Post Type |
| --- | --- |
| | |
Relevanssi integration
Views 2.2 integrates Relevanssi to existing search functionality, extending the native search capabilities of WordPress. Instead of searching only through the post title and content, you are now able to include custom fields and taxonomies in the results. Besides that, results are now being sorted according to the relevance and importance.
This integration also affects Views custom search functionality, adding the option to also include custom fields.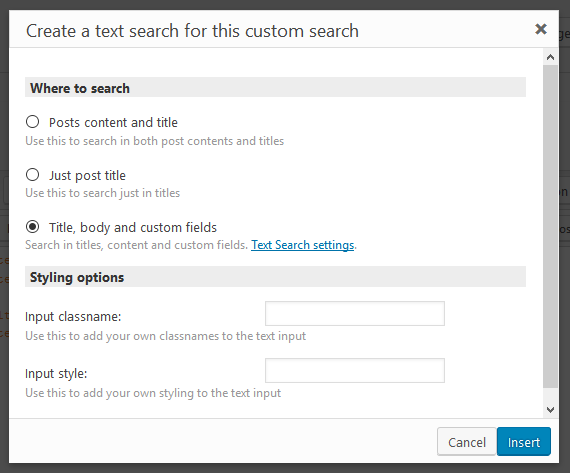 Finally, Relevanssi works nicely with WordPress Archives, in case that there is one assigned to search results page.
Tabs, Accordion and Widget Area Layouts Cells
Layouts now features two new Layouts cells for easily display the contents as tabs or accordions. It also features the new cell to create and customize widget areas.
The Tabs cell allows creating tabs on the front-end. Inside a tab, you can place any type of content, including text, media, and grids of other cells.
The Accordion cell creates a vertical list of panels, that can include text, media as well as grids of other cells.
The Widget Area cell lets you extend default widget areas for your theme. You can create new, and manage widget areas right from the Layouts editor page.
Bootstrap Components in Visual Editor Cells
Bootstrap is a great framework and Layouts is heavily based on it. It also includes a list of elements, ready to use. In order to make these elements accessible in Layouts, we added an editor menu. It lets you easily get information on how to add them.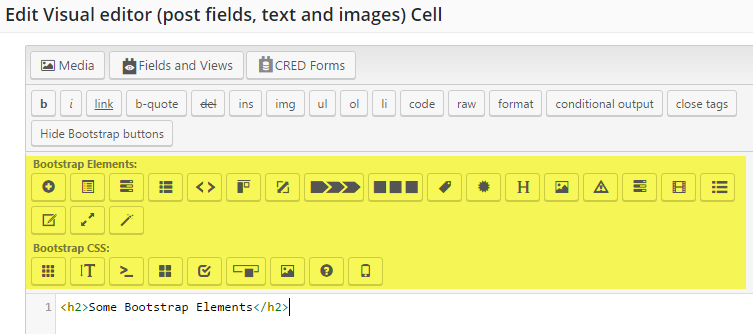 Clicking on any of these buttons will display a dialog with an explanation of the component and a link to documentation. Instead of wrapping the implementation of this huge list of elements in Layouts, we simply send you to the correct place, to copy the code from there and paste into it the Visual Editor cell.
Revamped Interface And Custom User Roles Based On Permissions
Instead of a huge list of everything you can control, Access 2.2 uses tabs. You will see tabs for custom types, taxonomy, fields, CRED forms, user roles and more.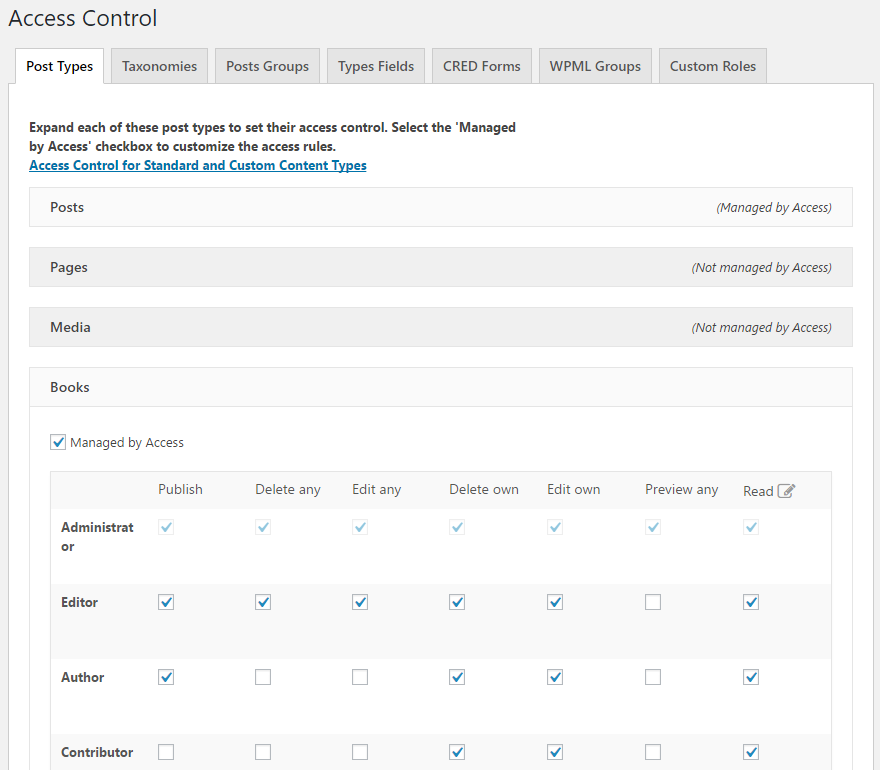 Until this version, Access was using the working, but outdated, "levels" system for controlling what custom user roles can do. Now, Access uses the correct "permissions" system, which is much more granular and flexible. When you edit the permissions, you get a comprehensive list of everything that WordPress lets you control, organized by subject.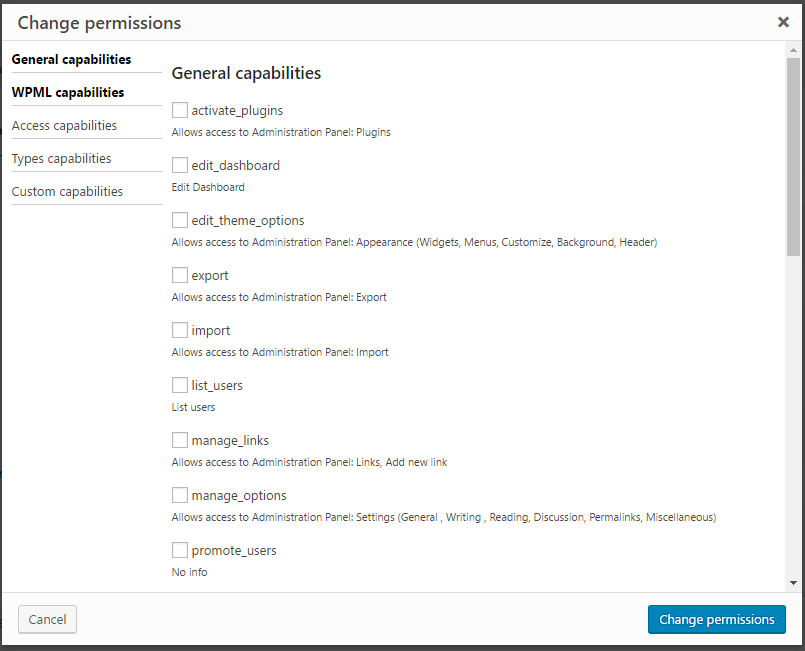 Revamped Interface For Creating Forms In CRED
Both Post and User forms now have a new Settings section, where everything is grouped in a single box.
Additionally, editors for custom Javascript and CSS custom code have a new styling, making them similar to the corresponding Views editors.
Finally, the E-mail Notifications section has been updated with new styling and two new settings. Notification name, to easily identify it and a checkbox to enable or disable notifications.
Full Changelogs
This release of Toolset plugins updates Types, Views, CRED, Layouts, Access, and Toolset Maps.
You're welcome to read the full changelogs to see all the details, new features, and bug fixes for each of the plugins:
Views 2.2 changelog
Types 2.2 changelog
CRED 1.8 changelog
Layouts 1.8 changelog
Access 2.2 changelog
Toolset Maps 1.2 changelog
Download and Update
As always, you will receive these updates automatically to all the sites that you registered (yes, you can register all your sites and sites that you build for your clients for automatic updates). You can also download Toolset plugins from inside your account.
What's Next for Toolset
We're working on several major new features for Toolset, which will arrive in the coming months but the main one is the work on Many-to-many relationship. 
Last time, this was "in planning". Now, it's "in development". When this will be complete, we're talking about a big push to advanced WordPress sites. The new many-to-many relationship management will include a GUI for directly connecting items, a high speed query engine for getting related items and complete support for Types, Views and CRED. For now, this sounds techie, but we'll talk a lot about it when there's something to share.
Give Us Your Feedback
What do you think? Are you happy with the new features and the upcoming ones? Let us know by leaving your comments.