Toolset 2.1 Adds AJAX Forms, VC Integration, Filters for WordPress Archives, New Dashboard and More
This major release of Toolset plugins includes loads of new features, allowing you to build even more powerful sites with Toolset, without sacrificing simplicity and usability. The new Dashboard makes it easy to see what you have and what's needed. Upgraded WordPress Archives let you build archives with custom searches and pagination. Visual Composer integration allows you to design templates with VC easily. AJAX forms help integrate CRED into advanced workflows, and there's even more!
Central Toolset Dashboard for an Overview of Custom Types
How do I get started and what should I do next?
If you've asked yourself this question in the past, the new dashboard in Toolset should be the solution.
The Toolset Dashboard gives you an overview of the custom types in your site, their fields, taxonomy and front-end display.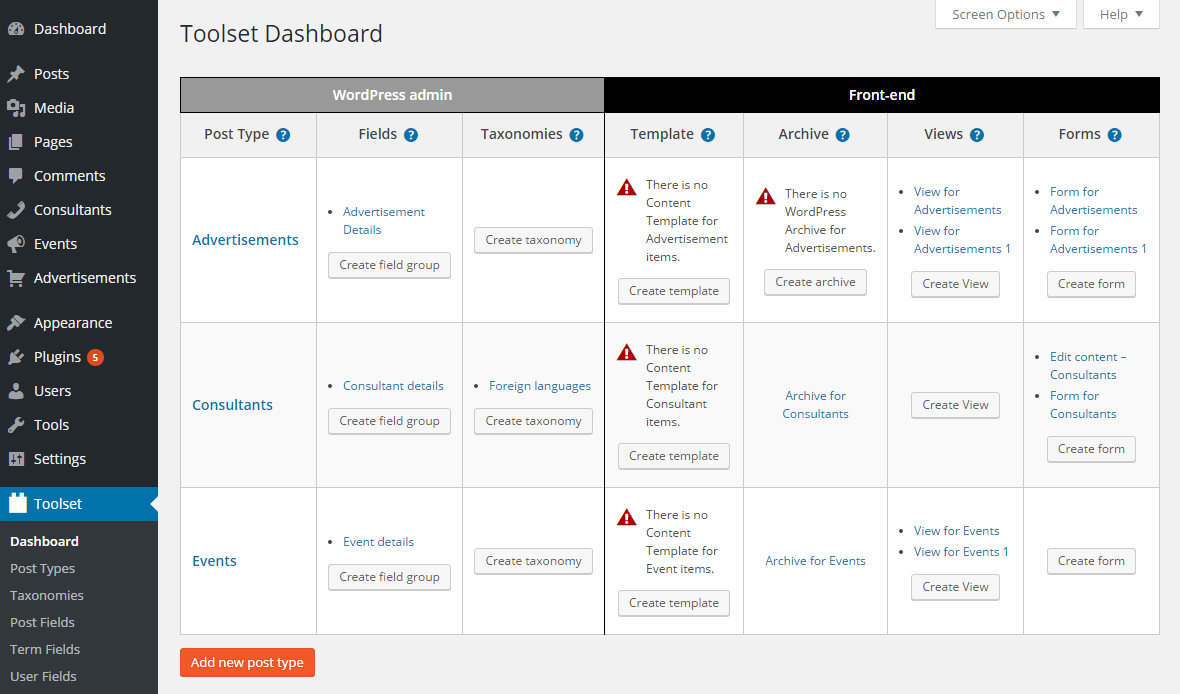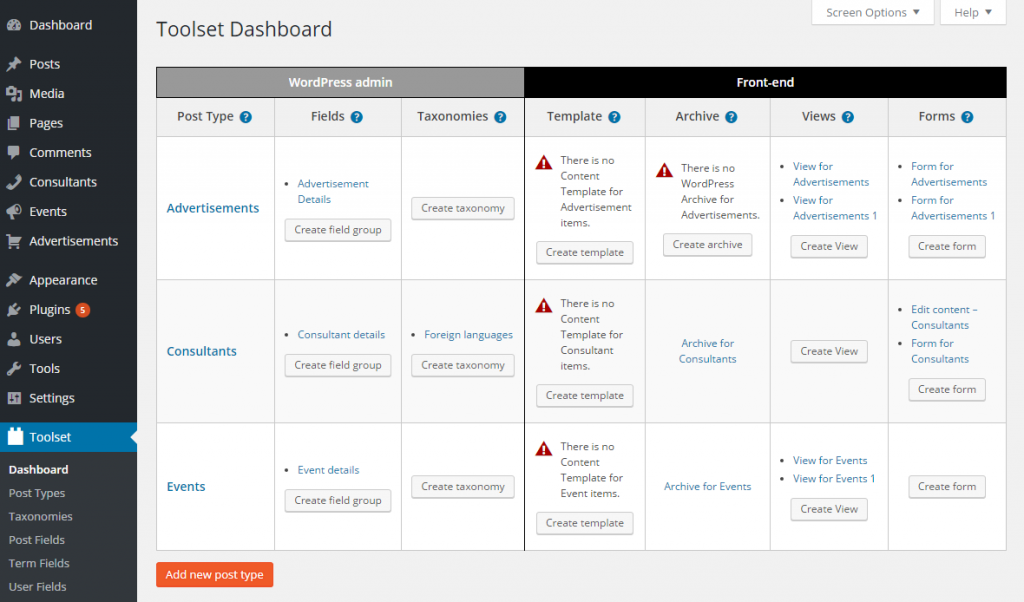 From the new dashboard, you can create new custom types, add to them fields and taxonomy, create templates, Views and CRED forms. The dashboard adapts to the plugins that you have active. It will guide you to creating templates and archives in the right way (depending if you have just Types, Types + Views or Types + Views + Layouts). This will make your design path easier than reading loads of documentation and deciding for yourself what you need to create and how to connect it.
Control over front-end display tables
We hope that the front-end display tables help you, but we also understand if you decide to disable them. You will find a new option to hide these tables in screen options.
Full Control and Flexibility for WordPress Archives, With Filters and Pagination
You probably know how important archives are for custom types (if you're not sure, leave a comment and we'll explain). When you need to list items of a CPT, the best place to do this is in the Custom Post Archive. And, to design it with Toolset, you should use WordPress Archives. So far, this is "old news".
What's new in Views 2.1 is the ability to fully customize these WordPress Archives.
Now, you can add custom search, pagination, filtering and sorting to your WordPress Archives. Almost every feature available in a View is also available now for WordPress Archives.
This is so important because now you don't need to choose between SEO and features. You can use the standard archive pages and design them with WordPress Archives AND include a custom search, pagination, filtering and sorting in these archives.
Visual Composer Integration
Views 2.1 allows you to design Content Templates with Visual Composer plugin.
If you're using Visual Composer you will get a great performance boost with this new integration. It means that you can design real templates once and use them automatically for all items belonging to the custom type. Templates will include field shortcodes from Toolset and the neat grid from VC.
BTW, when we first announced this beta, we understood that there's also pretty high demand for Beaver Builder integration. We're working on this integration right now and we hope to have a nice beta for you, with BB integration, in about two weeks. Beaver Builder works completely differently than Visual Composer, so this integration is from scratch. It's worth the effort 🙂
AJAX Form Submission in CRED
CRED 1.7 lets you enhance front-end editing forms with AJAX submission. In English, this means that forms can process without a full page refresh (only the form section gets refreshed). This is great, as it solves a number of problems and lets you build new things with CRED and a little bit of creativity. Here are some ideas on how you can use AJAX submission for CRED forms:
Prevent page scrolling – AJAX doesn't refresh the browser, so the page doesn't scroll. If a form is inside a page that has other content, your visitors will keep seeing the form and any validation messages they need to pay attention to.
Build multi-step processes – if you want one thing to trigger another, with your custom workflow, the AJAX submission is the way to go. Use CRED hooks to add your logic and display the next steps according to the state of the form submission.
Faster feedback to visitors – generally speaking, AJAX submission lets you skip a lot of the page processing, so forms just work a lot faster. Together with the new AJAX spinners, you can build much snappier sites now with CRED.
No SPAM With reCAPTCHA v2 (AJAX)
How do you like typing in cryptic texts and numbers that humans can hardly read, but spammers are bypassing easily? If you don't, CRED 1.7 has good news for you. It now supports the new reCAPTCHA system by Google, which allows users to just click a checkbox to confirm they're not robots. Honestly, clicking on a checkbox is easier than reading unreadable text.
Smoother Editing and Many Small Improvements for Layouts
As Layouts is gaining in popularity (about 25% of Toolset-based sites now use Layouts), we decided to focus this release on the little things, that make the big difference.
We reviewed hundreds of support tickets and fished out the repeating usability issues. After all, the purpose of Layouts is to make layout-design easier. So, usability for Layouts is the #1 feature.
Layouts 1.7 makes it easier to assign and use parent layouts. You will see controls that tell you which parent layout is the site's default and to set a parent layout as default.
When you assign layouts to content, you also assign it to all existing content (this is the default option). We hope that skipping a step will prevent you from losing time wondering why layouts don't display on the front-end.
Getting-Started Videos Inside Layouts, Views and CRED Editors
We think that Toolset offers a major improvement to the way developers build WordPress sites, but we can't argue with one simple fact. It's a different workflow. To make the transition easier and let you get the most of Toolset, we've added "getting started" videos to most comment first-time steps in Toolset.
When you create your first Layout, View, Content Template or CRED form, you will see a detailed help video. This video shows what you can do and walks you through the basic steps. These videos are around 8 minutes long. They are not 30 second "teasers" and they're not 30-minute exhaustive all-features tutorials. After you watch such a video, you should be well on your way to using a basic Toolset elements correctly.
Of course, you can skip these videos or dismiss them for good. We hope that these new videos will help first-time users, as well as developers who are already experienced with Toolset. We encourage you to watch them. You might learn a new trick, even if you've used Toolset for a while.
Full Changelogs
This release of Toolset plugins updates Types, Views, CRED, Layouts, Access, Toolset Maps, and the Avada integration plugins.
You're welcome to read the full changelogs to see all the details, new features and bug fixes for each of the plugins:
Download and Update
As always, you will receive these updates automatically to all the sites that you registered (yes, you can register all your sites and sites that you build for your clients for automatic updates). You can also download Toolset plugins from inside your account.
What's Next for Toolset
We're working on several major new features for Toolset, which will arrive in the coming months:
Many-to-many relationship – last time, this was "in planning". Now, it's "in development". When this will be complete, we're talking about a big push to advanced WordPress sites. The new many-to-many relationship management will include a GUI for directly connecting items, a high speed query engine for getting related items and complete support for Types, Views and CRED. For now, this sounds techie, but we'll talk a lot about it when there's something to share.
Toolset-based themes – we think that now we have everything ready for building super-flexible themes based on Toolset. At these moments, we're creating a first "proof of concept" theme. Our plan is to show you how nice such a theme could be, both to site developers and to end users. If you're building themes and looking for more power, this is for you.
Beaver Builder integration – Views 2.2 will allow you to design templates with Beaver Builder, like Views 2.1 allows to do it with Visual Composer.
New UI for CRED – CRED UI is getting a major round of updates, to make it easier to create and maintain CRED forms. This is more than a cosmetic update. We're combining feedback from multiple usability reviews, to make it much easier to get work done with CRED.
Under the hood Access changes – Today, Access still relies on deprecated methods for user levels. This will go away in the next major Access release.
Give Us Your Feedback
What do you think? Are you happy with the new features and the upcoming ones? Let us know by leaving your comments.