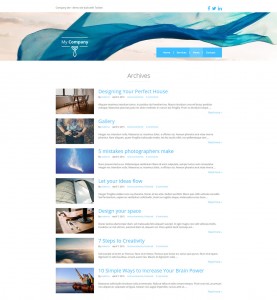 In WordPress, every post type has an archive page by default. When you go to a post type's archive page, it will list all the posts belonging to that post type. Toolset can help you to easily create custom archive pages for your custom post type, right from the WordPress administration page.
There are many benefits of having good archive pages for your custom post types, but two are most important:
They allow your visitors to access old(er) contents
SEO benefits
Importance of the archive functionality
Sites usually have one or many content types that "expire" in one way or another. This includes news, announcements, events, and blog posts as well. Once new posts are published, the older ones can quickly dissapear from the most prominent pages in your site.
This is why users need the ability to search through the archives of your posts. It allows them to find content important to them, regardless of when they were actually published. Additionally, this actually boosts the engagement of visitors with your site.
Consquently, this leads them to spend more time on your site as well. More time spent on the site builds loyalty and provides you with more possibility of conversion.
Importance for SEO
As we mentioned in the previous section, many content types in websites "expire" quickly. Contents are not meant to be written and "discarded" but should be accessible regardless of when they were created. For a good, long-term search engine visibility of your blog contents, archives are an important part of the SEO process.
So, to put it shortly, archive pages are important because they provide search engines with the access to your older content. That being said, any SEO plan should plan archiving of contents right from the very start.
Want to create custom archives with Toolset?
Toolset lets you create custom archives, which include custom fields and your design. Our 30-days refunds let you try Toolset risk free. If you're not 100% happy with Toolset, we'll refund your order.