You can use a Content Templates to control how items in WordPress archive and taxonomy pages look.
Although you can use a WordPress Archive, sometimes you might not want or need to modify the whole list of posts displayed in an archive page. You can use a Content Template to change only the content of each post.
Simply head to Toolset -> Content Templates and select to arrange by usage for custom post archives or for taxonomy archives. You will get a list of available archive loops, and you will be able to create or set a Content Template to be used on those loops. You can also change the Content Template being used or just remove the assignment, so no one will be applied.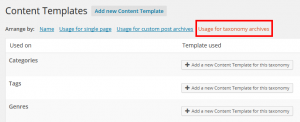 WordPress will display the page as it would do it naturally, listing all the posts that belong to the archive. The content of each of the items in that list will come from the Content Template that you've selected.
---
Related docs