If we want sites to rank well in searches, Google asks us to pay attention to three guidelines:
Help Google find your pages
Help Google understand your pages
Help visitors use your pages
This tutorial explains how you can meet the guidelines set by Google with the help of Toolset plugins.
#1. Use WordPress Archives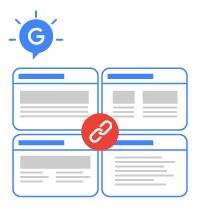 Google advises:
"Ensure that all pages on the site can be reached by a link from another findable page."
Source: Webmaster Guidelines
Often, you have a series of related items to store and display on your site. These can include services, testimonials, or a group of tutorials on a specific topic.
There are several ways to store these items in your site – (1) you can use regular WordPress pages and subpages (pages that are grouped under one parent page), (2) you can use regular posts, and (3) you can create a dedicated Custom Post Type.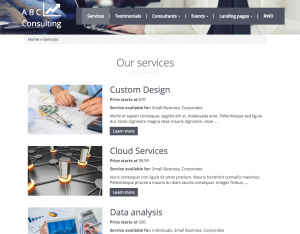 We recommend using Custom Post Types (3) because WordPress automatically creates Archive pages for your Custom Post Type.
An archive page serves as an index page with links to all its posts. If your site editor adds a new post of a given post type, she/he doesn't need to assign it to a specific parent or to update the index (archive) page manually to include this new post.
It happens automatically.
In other words, this new single post page will never be lost in the sea of your website pages. As long as your archive is easy to access, all its posts will be reachable both to your visitors and to Google.
How to create a custom WordPress archive
Toolset plugins let you build fully custom archive pages.
By providing custom archive pages, you help both Google bots and your visitors.
In archive pages built with Toolset:
You can display elements in a custom order (You want to display your image before the post title? No problem!).
You can include your post custom fields.
You can skip displaying post meta data that are irrelevant in your specific case. For example, you do no need to display postdate or post author for a single service page.
You can display your post entries in any way you want: as a grid, a list, or a table. You can also use your custom HTML structure.
You can even add filters to your archives
You can paginate your archives if the list of items is long.
You can include breadcrumbs to your archive-see the next point.
To create a custom archive, follow the steps described in the page Customize post archives page of the Getting Started with Toolset tutorial.
#2. Add breadcrumbs to pages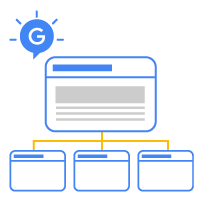 Google advises:
"Help Google understand your pages. […] Design your site to have a clear conceptual page hierarchy. […] When using a content management system (for example, Wix or WordPress), make sure that it creates pages and links that search engines can crawl."
In the previous section, we explained the importance of WordPress Archives. Using WordPress Archives has more benefits. WordPress Archives sit in the breadcrumbs, which helps Google to understand the structure of your site and page hierarchy.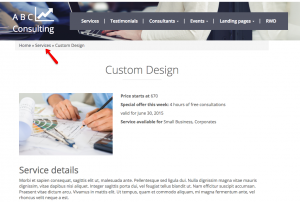 If you use breadcrumbs, both Google and your visitors will immediately understand where each page belongs.
The page in the screenshot uses breadcrumbs to make it obvious that this post belongs to the Services page.
It helps Google and your visitors, especially if that's the first page of your site a user visited.
How to add breadcrumbs to templates
The easiest way to add breadcrumbs to your site is to use the breadcrumb rendered by the breadcrumbs function of the Yoast SEO plugin.

If you use Toolset plugins, then you don't need to edit your theme template files to add the Yoast SEO breadcrumbs function.
The Toolset Views plugin provides a ready-to-use shortcode, which renders breadcrumbs of the Yoast SEO plugin: [yoast-breadcrumbs].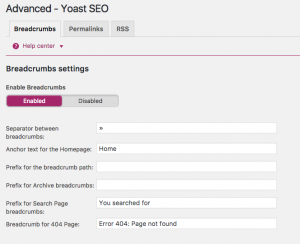 To add breadcrumbs to your Toolset-based site if they are not already included in your theme:
Install and activate the Yoast SEO plugin.
Make sure you have breadcrumbs enabled in the Advanced-Yoast SEO settings (see the screenshot).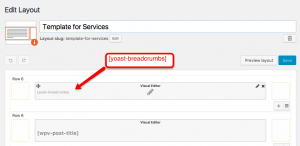 Open the template layout for your Custom Post Type.
Insert a row with a text cell.
Insert the [yoast-breadcrumbs] shortcode in the row.
Similarly, you can add the [yoast-breadcrumbs] to your WordPress Archives and other layouts.
#3. Include related content
Another useful technique that can help Google (and your site visitors) to understand your pages and the hierarchy between them is displaying related posts/pages.
Displaying other posts of the same post type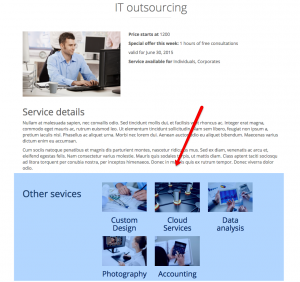 In this example service page you can see other services at the bottom.
The "Other services" section displays all posts of the Service Custom Post Type, excluding the post that is currently displayed.
The list of posts is easy to create using Toolset plugins. All you need to do is to create a simple View that lists all services. Ensure that the "Don't include current page in query result" option (Filter Query section) is checked.
Displaying brother pages
In some cases, you might need to implement your page hierarchy using regular WordPress pages and subpages (pages that belong to another page, which is its parent page).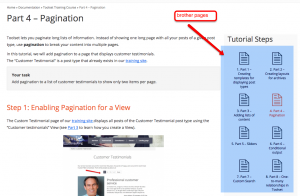 Much of our documentation is organised this way, as regular WordPress pages grouped together under parents. On such pages in the sidebar, you can see the brother pages: all other pages with the same parent.
Check the Displaying brother pages user manual to see how you can create the list of pages using Toolset plugins.
#4. Provide a clear page structure
So far, we have discussed how you can create a clear hierarchy between your pages and how it helps Google to find and understand your pages.
Providing a clear hierarchy within a page is equally important. Every page of your site should have a clear structure.
You can control the page structure using appropriate headings. The same applies to creating template layouts or layouts for WordPress Archives.
Here's a set of some basic principles:
Make your page sections stand out by grouping them under a relevant heading (h1, h2, h3, h4, …), and not by bolding (or coloring/enlarging) some parts of your content.
The h1 heading is the most important one. Usually, there is only one h1 heading on a page, which would be the page title.
h2 headings can appear on your page several times.
Use h3, h4, and other headings under your h2 heading to indicate where the subsections belong.
If you follow these rules, you can make your page hierarchy easy to understand for Google bots. In this way, Google will know the importance of each heading, and will be able to understand what each section is about and where a specific piece of content belongs.
Let's see an example.
This is a single service page which uses one h1 heading as the page title and indicates the specific service.
Then we have two subsections with h2 headings:
Service details
Other services
All services listed in the "Other services" section use h3 headings which indicates to Google that they belong to the "Other services" section.
If we used h2 headings for the services listed in the "Other services" section, it wouldn't make any significant difference for the visitor.
Visually it would look similar-The layout of these related services on the page makes it obvious that they belong to the "Other services" section.
However, Google, other search engines, and the screen readers cannot see your site the way you can see it. That's why providing a meaningful heading hierarchy is a must if you are concerned about SEO.
How to set correct headings in layouts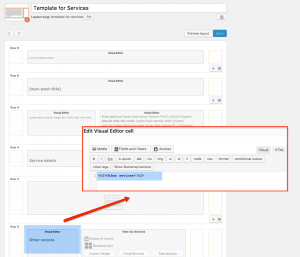 In templates created with Layouts, you add sections as rows and cells.
To add headings, use the Visual Editor cell and wrap your title in the relevant HTML tags.
The screenshot shows how we set the "Other services" title to use the h2 HTML tag.
Summary
On this page you learned to build your websites with SEO in mind.
Google shares a hint:
"A good rule of thumb is whether you'd feel comfortable explaining what you've done to a website that competes with you, or to a Google employee. Another useful test is to ask, "Does this help my users? Would I do this if search engines didn't exist?"
The techniques we shared help your visitors and Google bots.
When creating websites using Toolset plugin, please follow the guidelines:
Use WordPress Archives to provide Google with a list of posts to be indexed and a "table of contents" of all posts for visitors.
Add breadcrumbs to your pages so that visitors and Google know where each page belongs.
Create Views to display related posts/pages automatically.
Always provide a clear page structure with relevant headings.