In addition to creating layouts for different post types, a single post and page, or archive pages, Layouts enables you to create your own custom Error 404 page.
The creation process is the same as for any other layout, but we need to take care of one small thing before assigning the layout to the Error 404 Page.
Your site needs to use "pretty" permalinks
In WordPress administration, go to the Settings -> Permalinks page and make sure that the permalinks are not set to the Plain option. Any other permalink option will work.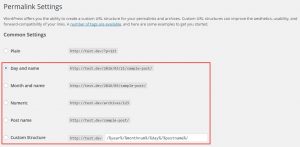 Creating the layout for your Error 404 Page
Once this requirement is met, you will notice a new section called Others, in the layout assignment dialog box. It contains the check box to assign a layout to the Error 404 Page.
Creation of the layout itself is the same as for any other. Insert the cells you want to use on the Error 404 Page and arrange them, as in the next example.
| Error 404 Page on the front-end | Layout for the Error 404 Page |
| --- | --- |
| | |