Layouts is Toolset's own page builder that allows you to design individual pages and posts. You can use its drag-and-drop interface to control what appears where. The built-in responsive grid means the content will adapt to different screen sizes.
This page is relevant only if you are using Toolset Layouts to design your content. Otherwise, you can skip to the
next section
.
To follow the instructions on this page, remember to install and activate Toolset Layouts plugin.
Creating a Content Layout
Edit any page or post and click the Content Layout Editor button to design it with Layouts.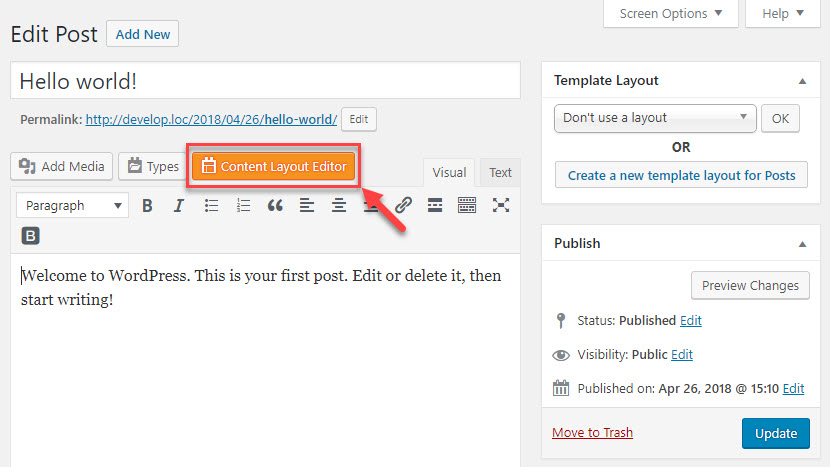 Any existing content will automatically be added to the newly created Content Layout and placed inside a Visual Editor cell in the first row.

Design the page by adding cells to rows. Use the Preview button at any time to see how your design looks like on the front-end.
Deleting a Content Layout
If you want to stop using Layouts to edit a page or post and revert to the WordPress editor, click the Stop using Content Layout Editor button on the post editing screen.
A dialog box presents two options:
Revert to a snapshot of the post before you started editing it with Layouts.
Keep the design created with Layouts, which will add required markup to the editor so that the page renders the same.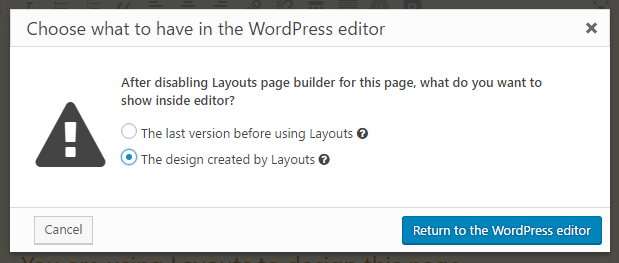 Need step-by-step instructions?
Watch the video – Using the Content Layout Editor to design a single page
Need help?
Go to the Getting Started support page, leave a comment and we will reply to you.
What's next?